CBI II Computer Balancing Instrument
General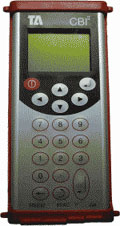 CBI II measures and documents differential pressure, flow and temperature of STAD, STAF, STAM/STAP and other valves from TA Hydronics. Programmed to calculate presetting values for balancing and also the TA Method and TA Balance. Automatic calibration and venting eliminates measurement errors. The design makes CBI II user-friendly and patient towards environmental influences. Supplied in a practicable case with instruction manual, software and accessories.
We have been responsible for the specification and the design of the computer and sensor electronics as well as for the software specification and the design for both embedded and PC software.
The customer
TA Hydronics is the ideal partner for creating an energy efficient indoor climate. Through the expertise and dedication of our employees we offer products and systems knowledge to professional customers.
TA Hydronics has subsidiaries in Norway, Denmark and Finland. We also have subsidiaries in Austria, Belgium, Czech Republic, France, Germany, Holland, Great Britain, Hungary, Poland, Russia, Spain, Argentine, Australia, Brazil, China and Singapore. There are agents in another 25 countries.
Product content
– Radiator valves
– Gate- & Ball valves
– Pipe couplings
– Balancing valves
– Self-acting valves
– Measuring instruments
– System components